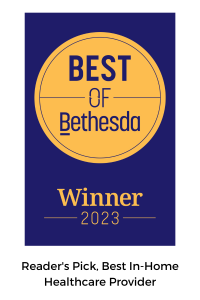 Here at Family & Nursing Care, we began 2023 by celebrating being voted "Best In-Home Care Provider" in Bethesda Magazine's Best of Bethesda Readers' Poll!
Each year, Bethesda Magazine, a local feature and lifestyle publication, enlists its readers to vote on Bethesda's best of the best — from restaurants to businesses to bars to shops to health care providers. Readers are encouraged to write-in votes to identify local companies they believe provide premium service to their customers and community, while making the Bethesda area a great place to live, work, and play.
We are proud to say the 2023 Best of Bethesda: Best In-Home Care Provider award marks the 8th year Family & Nursing Care has been voted for this honor. We are humbled and honored to receive this distinction as it's public recognition like this that enables us to reach out and provide support to even more clients.
We would like to thank the clients, Caregivers, and professionals with whom we are privileged to interact. By placing your trust in us and allowing us to continue our valuable work, we can keep moving forward in making a difference in someone's life every day!