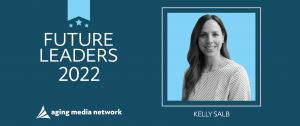 Aging Media Network, Inc. ("Aging Media") has announced the Future Leaders Class of 2022, showcasing the most promising talent in senior housing, skilled nursing, home health and hospice industries.  Read more about this prestigious award here.
We are so proud of Kelly Salb, LBSW, Family & Nursing Care's newly promoted Vice President, Client Services, who has been named to the Home Health & Home Care Future Leaders Class of 2022. Kelly works tirelessly on behalf of the clients she serves and is a true partner to the professionals she works with. 
Please join us in congratulating Kelly on this amazing and well-deserved accomplishment!