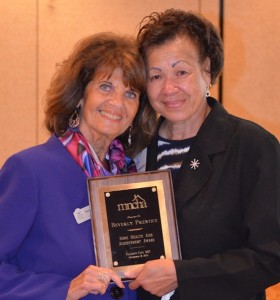 Silver Spring, Maryland – September 18, 2013: Beverly Prentice, a Certified Nursing Assistant working with older adults in the Washington, DC metro area for 34 years, was recognized today for her demonstrated excellence as a home care aide by the Maryland National Capital Homecare Association (MNCHA) Private Duty Committee. The 'Home Health Aide Achievement' Award was presented to Ms. Prentice by MNCHA, a well-established trade association for the home care sector in Maryland and DC, at their annual meeting on September 18th.
"Beverly's empathy, compassion and personality set her apart from other caregivers," said Neal Kursban, president of Family & Nursing Care, a private duty home care agency with whom Beverly has enjoyed a referral relationship since 1979. "Our clients have consistently told us how Beverly puts her heart and soul into the care she provides, always goes above and beyond their expectations, and it feels like she is part of the family.  We are thrilled she is getting this award that gives her the recognition she so deserves."
"Each year, MNCHA recognizes the great home care work being done in the field and in the office," said Ann Horton, Executive Director at MNCHA. "Beverly exemplifies the spirit of this award, and her 34-year commitment to serving older adults is an outstanding achievement."
About Family & Nursing Care
Since 1968, Family & Nursing Care has specialized in helping older adults get the most out of life. Whether it is a caregiver to help with activities of daily living, a nurse to assist with more skilled needs, or a licensed massage therapist to ease aches and pains or the symptoms of an illness, Family & Nursing Care meets each client's individual needs. Service is provided in Maryland (Montgomery, Prince George's, Howard and Frederick counties) and Washington, DC. Learn more at www.familynursingcare.com.