Home Care Services During COVID-19
Safe In-Home Professional Care for Seniors Amidst COVID-19
Last updated: 10/8/2020
Although so much of our world has changed with COVID-19, our resolve to be the premier resource for home care services for older adults has only strengthened. We know that you need to rest assured that your loved one's safety and well-being are in good hands – now and always.
The COVID-19 pandemic has shown us just how important the home care industry is. Family & Nursing Care continues to work with families and health care professionals alike to keep clients safe at home and protect them from this virus.
This brochure provides information on the additional protocols and safety measures we've put in place to support the safety and well-being of older adults during COVID-19.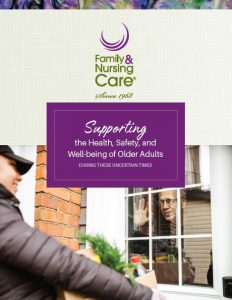 For in-home care for older adults in Washington, DC and Maryland, call 301-588-8200 or email us.
Concern about COVID-19 may have you wondering whether home care services are needed during this time. While you are weighing your decision, keep the following considerations in mind:
Care Plan Can be Set Up Virtually
Family & Nursing Care meets with clients and their loved ones online or by phone to conduct virtual assessments. With two caregiving options, Classic and Select, families have a choice for their loved ones. Families have virtual access to their Client Services Manager, who is the primary point of contact for all your home care needs, both practical and emotional.
Caregiving Promotes Social Distancing
Caregivers can help with getting medications, grocery shopping, bill paying, setting up video communications with healthcare providers and family members, and providing companionship for vulnerable individuals, to help them stay safe at home right now.
In-Home Care is a Viable Option Because It Serves as a Vital Support System to Keep Seniors Safe, Cared For, and in the Comfort of Their Homes.
Respite for Primary Caregivers
If you are a primary caregiver for an older adult, you may be feeling the stress now, more than ever. Without regular outlets, those not trained can experience immense frustration and feelings of helplessness and isolation. Caregivers provided by Family & Nursing Care can provide respite for family members caring for older adults during this pandemic. Whether it is helping with laundry and meals while you lay down to rest, or providing companionship for your loved one while you run to the grocery store or take a walk, we are here for you.
Care After Hospitalizations or Rehab
Caregivers provided by Family & Nursing Care are well-equipped to provide care for older adults following a hospitalization or rehabilitation. Our certified nursing assistants and home health aides take extra precautions with these clients during this delicate time.
Family & Nursing Care provides 24 hour, 7 days a week support to families in need of in-home support in Washington, D.C., and Maryland. Call us now toll free at 800-588-0517 for immediate assistance.