Other COVID-19 Precautions
Last updated: 5/20/2021
It's so important to help protect yourself, clients, and others from the spread of COVID-19 and other viruses and germs.
The following Frequently Asked Questions (FAQs) provide some information on additional safety measures you can take when working with clients and upon returning home.
In addition to getting tested for COVID-19, what other steps can I take when working to help keep myself and my clients safe and healthy?
First and foremost, we highly encourage you to get a COVID-19 vaccine.
This checklist provides recommended steps to take to make sure you are doing your best to keep both yourself and others safe and healthy.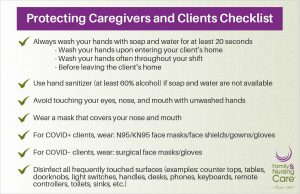 What if a client has COVID-19?
Work may be available for Caregivers who are willing to work with COVID-19 positive clients. If you are working with a client who has tested positive for COVID-19, there are some additional things to know and do.
 Watch this video for tips for caring for someone with COVID-19.
View the Personal Protective Equipment (PPE) Recommendations for working with a COVID+ client.
Is there anything I should do when I get home from work to help protect myself and those in my household from COVID-19?
When you get home from working with a client, there are safety steps you should take to prevent the spread of COVID-19 before you are able to be around others in your home.
This checklist provides the recommended steps you should take when you get home.