Personal Protective Equipment (PPE)
Last updated: 5/20/2021
Proper use of PPE is essential to help stop the spread of COVID-19. The following Frequently Asked Questions (FAQs) will help you understand what type of PPE you need and when and how to use it properly.
IMPORTANT: You can re-use face masks, face shields, and gowns per instructions here.
What Type of PPE Do I Need?
The type of PPE needed to work with a particular client is determined by the type of interaction with the client and the degree of blood and body fluid contact that can be reasonably anticipated as well as whether or not the client has been exposed to or is positive for COVID-19.  Click here to view recommendations for PPE in different scenarios.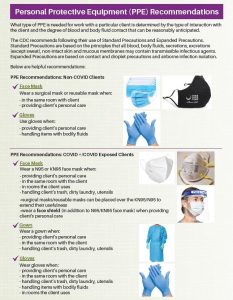 How do I Properly Put on and Take Off my PPE?
Watch the video below for information on how to properly don (put on) and doff (take off) PPE before and after working with a client.
These instructions from the CDC provide the steps to use when putting on PPE.