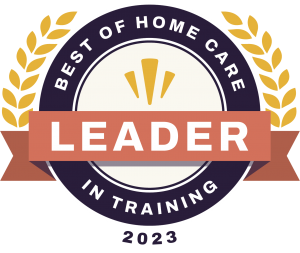 We are proud to have received the distinguished 2023 Best of Home Care® – Leader in Training Award from HCP, the leading firm in experience management for home care. The Leader in Training Award recognizes home care businesses that consistently provide an outstanding level of Caregiver education. As a Leader in Training, Family & Nursing Care is now recognized among the top 25% of home care providers participating in the nationwide HCP Training Program.
This accomplishment demonstrates Family & Nursing Care's long-term dedication to excellent care and employment. To qualify for this award, we implemented HCP Training to provide specialized education for Family & Nursing Care Select Caregivers. We have achieved a high level of Select Caregiver participation in continuing education, as well as an average of at least 8 courses completed by each participant.
The Best of Home Care – Leader in Training Award highlights the top-performing home care businesses in the nation. HCP believes that by honoring these providers, families looking for in-home care for a loved one will be able to recognize and choose a trusted home care provider.
"At HCP, our mission is to help home care businesses create a training program that goes beyond client and Caregiver expectations," says Todd Austin, President of HCP. "When we see companies like Family & Nursing Care that have so effectively provided outstanding care and employment experiences through continuous learning, we know we're on the right track. Family & Nursing Care has worked extremely hard to prioritize high-quality care and employment, and their work hasn't gone unnoticed. This award allows them to show proof of quality to potential clients and Caregivers."
About HCP
HCP leads the home-based care industry in experience management, training, and reputation management. Through its Care Intelligence Platform, HCP empowers providers in home care, home health, and hospice to attract and retain employees during workforce shortages. HCP also conducts the annual Benchmarking Report, the most comprehensive survey of providers in North America, and administers Best of Home Care awards to agencies that achieve best-in-class satisfaction scores. For more information, visit https://www.homecarepulse.com/.