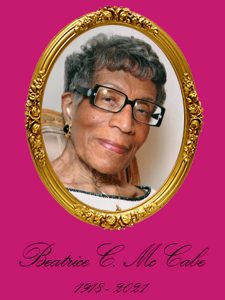 Beatrice McCabe and her family first became familiar with Family & Nursing Care when full-time care was required as a condition for her release from the hospital in 2017. Not interested in moving into a nursing care facility, Beatrice instead desired to remain in her home. From 2017 until she passed away in November of 2021 just days before her 103rd birthday, Beatrice's Caregivers not only provided her exceptional care, but also became family along the way.
Over the course of their time together, Beatrice and her Caregivers formed deep, affectionate relationships – them providing her the ability to stay and be cared for in her home, and her serving as a mentor to them by sharing advice and knowledge gained over the course of her fulfilling and inspiring life.
Born to Marie and John Cleland in Boston, MA on December 10, 1918, Beatrice was the eldest of two children. Following the death of her brother Thomas, a decorated warrior, during his 1946 return trip from World War II, her parents poured all of their love and support into Beatrice – helping to instill the high self-esteem and confidence that set the tone for her life.
Beatrice excelled at everything she did and became very successful. After graduating from the Boston Girl's High School and furthering her education at the Boston School of Business, Beatrice relocated to the District of Columbia and began her professional career as a dedicated Civil Servant with the U.S. Department of Labor.
Instead of assimilating as was expected of her, in true Beatrice fashion, she became a pioneer by paving a way forward. Working on the Advisory Committee of the Occupational Safety and Health Administration (OSHA), she was the only woman to serve in this capacity and helped establish the framework for its early beginnings. Over the years, her job performance was rewarded with advancement, including the significant promotion which rendered her one of the first Black women to support White managers in the Federal Government. By the time of her retirement in 1979, she had ascended to the prestigious position of OSHA Records Manager, and her legacy led some of her co-workers to annually celebrate her retirement with a luncheon at her home.
Beatrice became an Honorary Alumna of Livingstone College. The highlight of her life came in February 2006 when Livingstone College inducted her into its Hall of Fame. Beatrice responded, "I graciously accept and dedicate this high honor to the memory of my mother, Marie Ward Cleland, my role model and my mentor, who graduated from Livingstone 100 years ago in the class of 1905."
In October of that same year, she was bestowed the title "Premiere Role Model" of the class of 1937 by the Boston Girl's High School Alumni Association.
Beatrice was a faithful, dedicated, and committed member of John Wesley AME Zion Church for over 75 years. She served in several church ministries and organizations: Life Member (Matron) of the Women's Home and Overseas Missionary Society, the Cathedral Choir, the Organ Guild, Stewardess Emerita, and the Calendar Club. She was additionally a Charter Member of the E. Franklin Jackson Flower Guild.
There is no doubt that during her 102 years, Beatrice accomplished so much and made an impact on many, including Family Nursing & Care and her Caregivers. We remember her fondly, and likewise, her family has a deep appreciation for the care provided during Beatrice's final years.