Helping solve challenges facing aging adults and their families.
Family & Nursing Care is a leader in exploring new ways to provide care, companionship, and fulfillment to our clients. Our success and longevity in the home care industry is closely tied to our history, and to our adherence and dedication to our shared vision & values.
Our Vision & Values
We strive to allow older adults to age with dignity. We do so with a shared vision and 15 core guiding values.
Shared Vision
To be the premier resource for home care services for older adults, dedicated to and recognized for our passion and commitment to serve, help, and enhance the quality of life and well-being of others.
Guiding Values
Recognize that the exceptional quality and dedication of our employees and the caregivers are the backbone of the company and are essential to the realization of the shared vision.
Understand the vital importance of referring or providing caregivers who are sensitive, ethical, honest and consistently exceed our clients' expectations.
Create a cohesive, supportive, and trusting work environment.
Respect and value the diverse and unique perspectives of colleagues and commit to cooperative, effective, open, and honest communication.
Take advantage of opportunities to continuously learn and grow.
Continuously seek to innovate and improve internal processes and therefore the client experience.
Protect the privacy and security of our clients, the caregivers, fellow employees, and the company's information and assets.
Be always responsive to the expressed and unexpressed wishes and needs of our clients, the caregivers, and fellow employees.
Each staff member should understand their department's goals and be involved in planning the work that affects them personally.
Be proud of professional appearance, language, and behavior.
Understand and promote the FNC Foundation's mission.
Honor our elders for their wisdom, life experiences, and their contributions to society, while treating them with the utmost dignity and respect.
Be empowered to create unique, memorable and personal experiences for our clients, caregivers, and referral partners.
Immediately resolve complaints from clients, caregivers, and referral partners.
Make sustainability and giving back to the community a daily habit.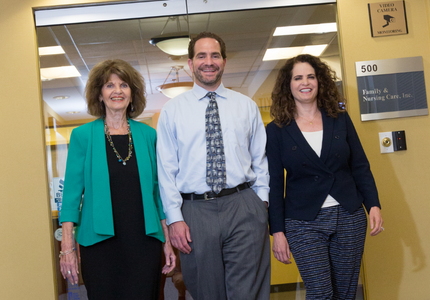 How it all began.
It was Sandy Kursban's close relationship with her grandparents growing up that inspired her to dedicate her life to promoting the well-being of aging adults. She witnessed first-hand how hard it became for her grandfather to live on his own. Nobody wanted to see him go to a "convalescent home" (the name for nursing homes at the time), and the concept of assisted-living had yet to be introduced. The only other option was for him to move in with family members. But back in 1968, many women were entering the workforce, leaving fewer and fewer family members to fill the traditional caregiver role. The world was changing and a new industry was born; Sandy helped to pioneer the aging-in-place revolution.
Family & Nursing Care was founded in 1968 in Silver Spring, Maryland to realize Sandy's vision: to give people the option of aging in place in their homes by having the support of experienced Certified Nursing Assistant (CNA) caregivers who could assist with activities of daily living and companionship.
Our legacy continues.
Today, Family & Nursing Care is one of the oldest, largest, and most well-respected resources for home care services in Maryland and Washington, DC. Dedicated to being the top resource for compassionate and reliable home care, Family & Nursing Care continues to break barriers and set benchmarks for the home care industry. After all, life comes full circle; family caregivers become care receivers and vice versa. We continue to seek new ways to support clients, Caregivers, families, and industry partners on this journey. We continue to round out our circle of care.
From our family to yours.
Family is at the heart of everything we do at Family & Nursing Care. Today, Sandy's son and daughter help run the company. Neal Kursban is CEO of Family & Nursing Care. Mindy Kursban is the company's attorney. And we've become a family ourselves.  In fact, more than 20% of our office staff have worked at the company for 10+ years.
A shared passion for growth, innovation, and change.
One of the remarkable things about Sandy Kursban is that, since the very beginning, she has always been ahead of the curve for the entire home care industry. That passion for growth, innovation, and change is shared by all of us at Family & Nursing Care. We use our extensive experience in caring for older adults as a foundation for looking ahead to what is next. Sandy revolutionized the industry and, in many ways, pioneered the industry. Today, Family & Nursing Care is a leader in exploring new ways to provide care, companionship, and fulfillment to our clients.
Evolution, History, and Legacy
Family & Nursing Care is proud to have been a part of your lives and communities since 1968. We are proud of the work we have done, side by side, with so many of you.