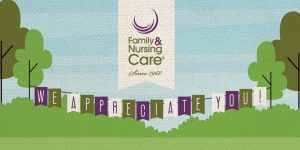 Family & Nursing Care is built on a deep appreciation for the Caregivers – respect and recognition of Caregivers are guiding values, and we go to great lengths to communicate and share that appreciation. 
"We want to find and recognize those Caregivers doing extraordinary things and highlight and share their stories," says President Jeff Zukerman. "Happy Caregivers means happy clients, so we plan strategically around the Caregiver experience."
Exemplifying this is the "C.A.R.E." initiative, Family & Nursing Care's key goal for 2022. Standing for "Commit to Attract, Retain, and Engage" the Caregiver, it is a constant reminder to focus on the Caregiver experience as central to the Family & Nursing Care promise. A portion of each weekly staff meeting centers on Caregivers and the positive relationships they foster. The leadership team also makes a concerted effort to elevate Caregiver voices and learn about their experiences. 
Family & Nursing Care has also committed to a wide range of Caregiver-first initiatives including annual celebrations, recognition of birthdays and anniversaries, tailored newsletters that speak specifically to Caregivers, a goodwill committee, annual surveys, and a commitment to publicly sharing positive feedback from clients.
"It's not just a professional relationship," asserts CEO Neal Kursban. "There's deep trust and connection between our Care Coordinators and the Caregivers, and that trust leads to organizational loyalty that serves both Caregivers and clients well."
"Last week I spoke with five Caregivers who were attending an onboarding session with us, and all had first heard of us from someone on our staff or from a fellow Caregiver," he explains. "They are proud to be affiliated with us because we treat them with dignity and respect." 
 During the throes of the COVID-19 pandemic, Family & Nursing Care found new and novel ways to show our appreciation for Caregivers. For example, for the 2020 and 2021 holiday seasons, electronic gift cards were provided to more than 1,200 Caregivers as a safe, socially distanced holiday thank you, a tradition we plan to continue.  This year, the gift cards will reach some 1,400 appreciative recipients. In addition to the gift cards, staff spent hours creating thank you videos and writing personalized letters, and even organized a socially distanced "drive through" gift-giving extravaganza.
"We had a stubborn mentality that we were going to recognize Caregivers for their extraordinary hard work during this time," says Neal, who quickly pivoted to alternative solutions when the usual annual holiday bash was not an option. 
PPE and safe working practices were also heavily prioritized, and Family & Nursing Care made an unrivaled effort to ensure vaccine access. 
"We spent unbudgeted money to help Caregivers stay as safe as possible," says Neal, noting that Family & Nursing Care continued to invest heavily in Caregiver safety even during the unique economic and logistical challenges presented during the pandemic.
"Beyond PPE and COVID-19 testing, Family & Nursing Care had a separate line item in the 2020 budget exclusively for Caregiver appreciation during the height of COVID," says Risa Margulies, Director of Communications and Marketing. 
We built a program that included wellness-oriented Zoom classes such as yoga and fitness, gift giving, and more. "So much was asked of Caregivers during that time," Risa says. "Our goal was to show how much the organization cares while also bringing some levity and delight to a constantly challenging situation."
Our efforts have paid off. Neal notes how thankful Caregivers are to have the opportunity to speak with the leadership team and share their thoughts and stories.
"It moves Caregivers because they see that we care," he says. "We're very personable, and we're here for them – and that matters."