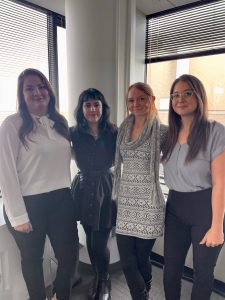 Our Client Service Management Associates are not only compassionate and hardworking but also integral to the Family & Nursing Care team. 
While you might not get the chance to see them in person often, you likely have heard our Client Service Management Associates on the other end of the phone when you call Family & Nursing Care. They help ensure lines of communication are kept open even while the Client Service Managers are out in the field visiting clients and their families. 
This close-knit team — Jennie, Savannah, and Meghan— have much in common, and it's not just their passion for helping enhance the lives of older adults. This group is empathetic, responsive, and knowledgeable, making them the perfect active listeners and points of contact to form relationships with clients and their families and gain a sense of how to best help them. The Client Service Management Associates innately know how to help clients and families feel heard, comfortable, and confident in their next steps. What's more, in working closely with Client Services Managers, the Associates gain valuable on-the-job experience, making them skilled candidates for promotion when the time is right. Katie Cash was recently promoted from the Associate group to Client Services Manager.
Their unique blend of perspectives and backgrounds adds that personal touch the Family & Nursing Care team strives to achieve with every interaction. Prior to joining our team, these Associates' work varied including elder care, case management, working with marginalized communities, teaching, and real estate. 
When these D.C. Metro natives aren't at work, they enjoy biking, painting, making pottery, and spending time with their families, friends, and pets.