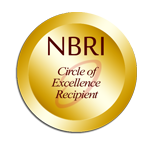 PLANO, TX — The National Business Research Institute (NBRI) is pleased to confer the distinction of Customer Excellence upon Family & Nursing Care and welcomes this organization to the NBRI Circle of Excellence.
"Customer Satisfaction drives Financial Performance," said Dr. Monique Ziebro, Organizational Psychologist at NBRI.  "This award is a result of Family & Nursing Care's dedication to measuring and improving their Customer Engagement."
To qualify for this honor, the organization must score within Stretch Performance at the 75th benchmarking percentile when measured against their industry, or the organization must improve 5 or more benchmarking percentiles in total company score over the previous research study.
NBRI conducts Customer, Employee, and Market Research for businesses, and 'reads the minds' of these human factors that so significantly impact all organizations. Family & Nursing Care works with NBRI to regularly surveys its clients for feedback.