Our efforts to get Caregivers vaccinated against COVID-19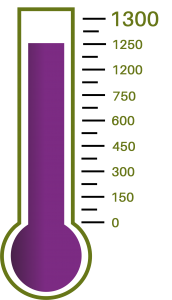 Each week during our full staff stand-up meeting, we discuss the metrics that are most important to our business. In January 2021, we added a new metric – one that has grabbed everyone's attention because it is related to the safety and well-being of Caregivers, clients and their loved ones. This metric is a thermometer that tracks how many Caregivers we've collected COVID-19 vaccine records from.
When COVID-19 vaccines became available across the country earlier this year, we knew we had our work cut out for us with our goal to get every one of the over 1,300 Caregivers affiliated with Family & Nursing Care vaccinated. We also knew that we simply could not stop short of our goal because the stakes were too high. So, we strategized, planned, organized, strategized even more, implemented our plan and revised our strategy along the way to keep up with the changing landscape of vaccine availability.
How we did it:
We communicated. We emailed and texted about the importance of the COVID-19 vaccination, the safety and effectiveness of vaccines, and the requests from clients and Senior Living Communities to only work with vaccinated Caregivers. We put together a video of interviews with several Caregivers who were early adopters of the vaccine, to convince their peers to get vaccinated as well.  We increased the frequency of our Caregiver communications with most of the topics emphasizing the vital importance of getting vaccinated.
We incentivized. At our Caregiver Appreciation Event in June, we held a special raffle with multiple $250 and $100 gift cards for Caregivers who had submitted a vaccine record.
We reached out. In 2020, we hired a team of full-time employees whose sole responsibilities were dedicated to reaching out to Caregivers to stay on top of their need for regular COVID-19 testing.  We asked this team to add Caregiver vaccine outreach to their list of duties. These team members call Caregivers daily to talk with them individually about getting vaccinated, educate those apprehensive to get vaccinated, help them find places to get the vaccine, and follow up with them to make sure they get both their first and second doses (where applicable). Our Caregiver Coordinating and Caregiver Services departments also spent extensive time talking one-on-one with Caregivers about the importance of getting vaccinated.
With these combined efforts, we've made great strides in reaching our goal to get every Caregiver vaccinated. While we haven't accomplished our goal just yet, the finish line is very much within sight.
With over 1200 Caregivers now vaccinated, our staff recently took some time to reflect on our efforts. "What do you think helped us get this many Caregivers vaccinated?" asked President, Jeff Zukerman. The answers came in rapid succession. "Communication!" "The raffle!" "Personal outreach!" "The video!". Neal Kursban, our CEO, added, "It's a combination of all our efforts.  The enormous commitment and investment of time is our moral imperative to keep doing everything we can to keep clients and Caregivers as safe as possible. Thank you to everyone who has played a role in our success here at Family & Nursing Care."