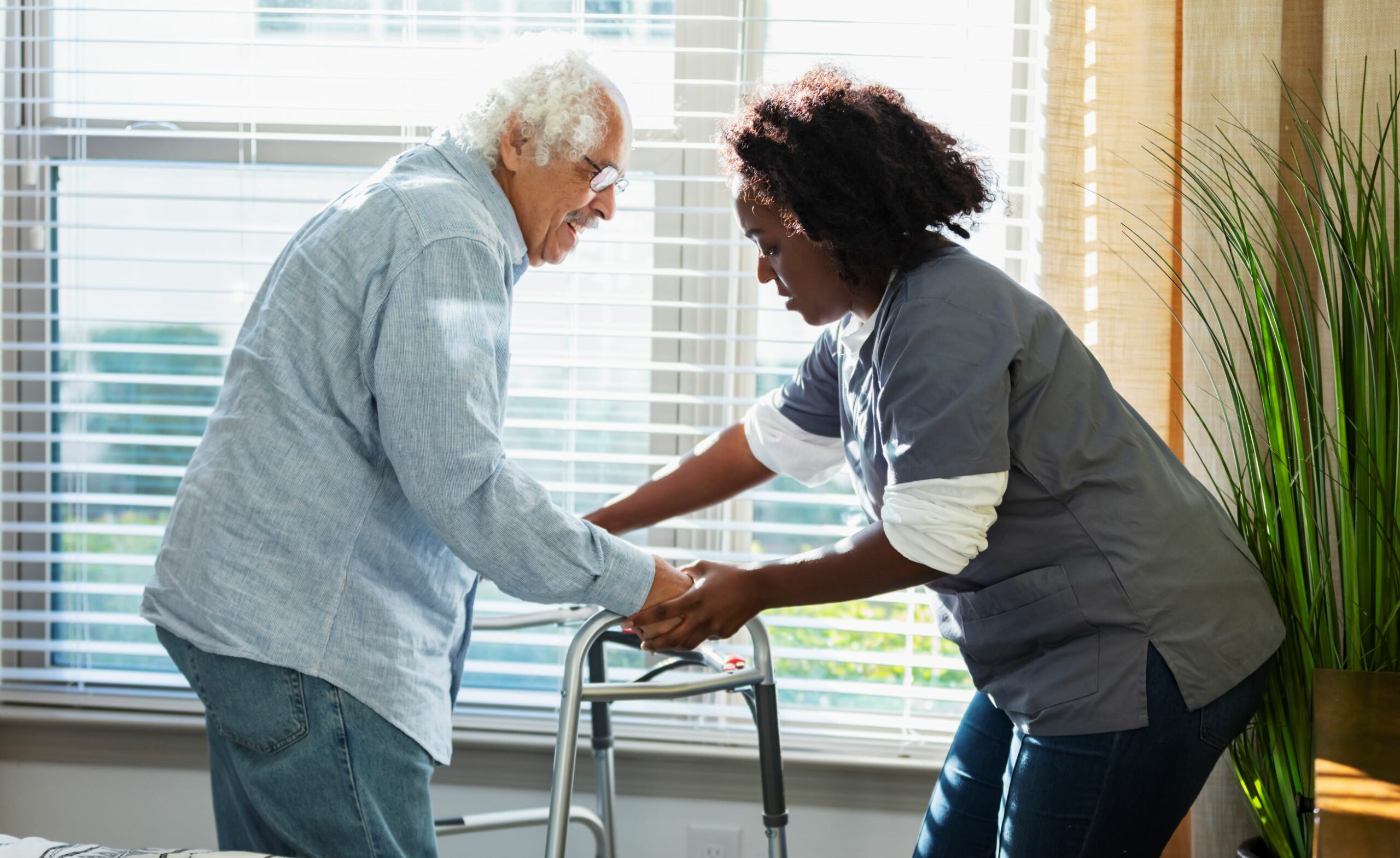 According to the Administration for Community Living, 70% of all elderly adults will need long-term care at some point in their life, and at-home care is among the most popular forms of extended aid for seniors looking to maintain their independence. Yet, the type and amount of at-home care needed can vary greatly from senior-to-senior and navigating the wide array of offerings – from companion care to nursing services and more – can be overwhelming.
Coordinating aid for a loved one is an important decision, which is why we want to explain the key differences between two of the most common at-home care options available to elderly adults: home care vs. home health care. While seemingly similar, by adding just one word, "health," it can make all difference in terms of what kind of care is offered. Read more below about the main distinctions, features and costs of home care and home health care to help make an informed choice when it comes to managing your needs.
What is Home Care?
Home care, also known as private duty home care, provides non-medical assistance to help elderly adults maintain their independence at home. While at-home care may be rendered by Certified Nursing Assistants (CNAs) – and some providers and caregivers may even be able to aid seniors with managing chronic health conditions, such as diabetes or Alzheimer's disease, or assist seniors recovering from surgery or a fall – the primary goal of private duty home caregivers is to provide elderly adults with daily living support. Examples of daily living aid typically provided by private duty home caregivers may include:
Meal preparation
Light housekeeping
Medication reminders
Grooming and dressing
Transportation to appointments
Errands and shopping
Range of motion exercises
Lifting and transferring objects
Private duty home health aides can also provide companion care. Companion caregivers may offer emotional aid for seniors by facilitating and sharing older adults' favorite hobbies at home, or by providing mobility assistance for social outings.
What is Home Health Care?
At its most basic, home health care services include medical care rendered to elderly adults from the comfort of their own home. This form of in-home nursing mirrors the aid elderly adults may receive at the hospital or in a skilled nursing facility and is administered by a licensed medical professional, such as a registered nurse. Common services that may be covered by home health care providers may include:
Physical, occupational or speech therapy
Post-surgery health monitoring
Wound care
Catheter care
IV administration
Pain management
Nutrition services
Breaking Down the Costs of At-Home Care Services
Another key difference between private duty home care and home health care is cost. Since home health care is prescribed by a physician, many expenses for these clinical services and medical equipment are Medicare-eligible. However, to qualify for home health care Medicare coverage, seniors must be deemed "home bound" by their doctor. Home health care is also only rendered on a short-term, intermittent basis.
On the other hand, private duty home care is paid for privately by seniors and their families, either out of pocket or from a long-term care insurance policy. Because of this, there are no eligibility requirements and elderly adults are free to use the service on a short-term or long-term basis. In addition, there is the flexibility to match clients with home health aides based on skills, preferences, and overall compatibility.
What Type of At-Home Care is Best for You?
At-home care is not a one-size-fits all approach. While home health care is suited for seniors when they need in-home nursing services for medical assistance, private duty home care is more flexible and can be a great way to support activities of daily living, whether on a short or long-term basis. Private duty home care may also be an ideal option for seniors following:
Discharge from a hospital or rehabilitation facility
Decline in mobility or independence
A fall
Loss of a companion
Relocation of an adult child or family caregiver
See why thousands of families have placed their trust in us.
Family & Nursing Care is one of the oldest and most well-respected private duty home care businesses in the greater Maryland and Washington, D.C. area. Since 1968, the organization has helped tens of thousands of families by providing access to caregivers who assist older adults with activities of daily living, including bathing, dressing, mobility assistance, errands, meal prep, light housekeeping, medication reminders, companionship, and more.
To learn more about our leading home care services and how we can help older adults live with dignity, call us at 800-588-0517 or click here.