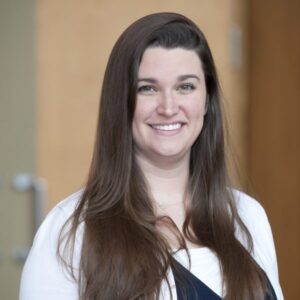 Keeping our clients and Caregivers safe during the COVID-19 pandemic has been a team effort – and nobody knows that better than Client Services Manager (CSM) Amanda Schwaninger. When the pandemic first spread across the country and Personal Protective Equipment (PPE) quickly became sparce, Amanda led the charge to secure and distribute over 600 masks to clients and Caregivers. On top of this, Amanda was a true team player, shifting her schedule and working alternate hours to accommodate client and Caregiver needs.
Amanda has been a CSM for the D.C.-based Forest Hills Senior Living Community and their Forest Side Memory Care facility since November 2011, working in Family & Nursing Care's onsite office. She also acts as our CSM for Compassionate Care for Seniors and Aging Network Services, ensuring clients in these care management groups receive the assistance and support they need to lead healthy, happy lives.
Amanda also enjoys seeing her clients during home visits, where she gets to know them on a personal level to find the best ways to support them and their care needs.