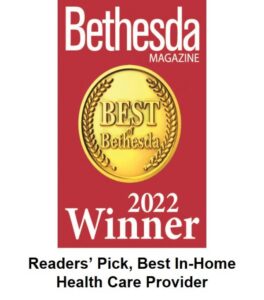 Happy New Year 2022!  We hope you had a wonderful holiday season.
Here at Family & Nursing Care, we are ringing in 2022 by celebrating being voted "Best In-Home Health Care Provider" in Bethesda Magazine's Best of Bethesda Readers' Poll!
Every year, local feature and lifestyle publication, Bethesda Magazine, enlists its readers to vote on the best of the best in the Bethesda area. The program accepts only write-in votes to identify local companies that its readers believe provide premium service to their customers and community while helping make the Bethesda area a great place to live, work, and play.
This is our 7th time winning the "Best In-Home Care Provider" crown, having had previous wins from 2013-2019, and making the list as a Top Vote Getter in 2020 and 2021. We are humbled and honored to receive this distinction as it's public recognition like this that enables us to reach out and provide support to even more clients.
At Family & Nursing Care we work tirelessly to fulfill our mission to enhance the lives of older adults in our region. We continuously seek to innovate and find ways to improve the client experience and exceed clients' expectations.  Being voted "Best of Bethesda" honors that work and gives us the confidence to keep moving forward in making a difference in someone's life every day.
We thank the clients, Caregivers, and professionals with whom we are privileged to interact, for placing their trust in us and allowing us to continue our valuable work.