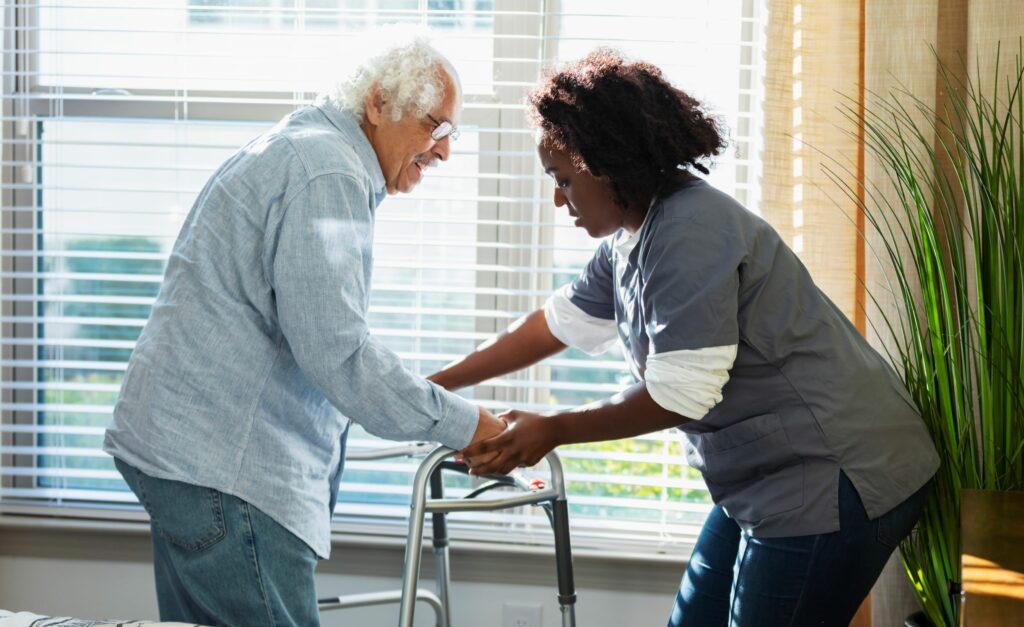 Along a family's care journey, circumstances can change, and clients and families may need to reassess their needs and consider whether it's time for additional caregiver support, either on a short-term or long-term basis.
At Family & Nursing Care, Client Services Managers are here to engage with clients and families. They are with you every step of the way and can provide insight and assistance around all care decisions.
Kelly Salb, Vice President, Client Services, Kelly Ann Sharp and Natalie Blickman, Directors of Client Services, and Celina Quismorio, Director of Nursing, Family & Nursing Care Select, recently sat down to discuss their experiences in guiding clients and families through the process of arranging additional caregiver support.
Additional Support for Short-Term Needs
"It's important for our clients and families to understand that we are flexible and able to provide support beyond what is originally scheduled when short-term needs arise," says Salb. The team readily identified various situations which could trigger a need for additional short-term Caregiver support:
Vacation/travel – Caregivers can travel with families to care for clients so that everyone can relax and enjoy their time together.
Events – (weddings, reunions, graduations, etc.) – Caregivers can help clients get ready and assist them while at the event.
Hospital/Rehab Stay – Many family caregivers dread leaving their loved ones alone in a hospital or rehab setting, even for a little while. A Caregiver can offer respite to the family members by staying with their loved one in the hospital, even overnight. Caregivers can also learn about and help clients digest information about continuing exercises, diet, and other changes needed to help the client successfully recuperate at home after discharge.
Discharge/Recovery Support – Caregivers can accompany clients home from the hospital or rehab and/or continue to provide additional support while they recuperate at home. Caregivers can watch clients who may be a fall risk in a weakened state, remind them to take medications, and much more.
Respite care – Caregivers can provide fill-in support while a family caregiver is away/on vacation or when they just need a break.
Emergency/back-up care – Caregivers can provide fill-in support when a family caregiver has an emergency.
Moving support – Moving can be a difficult adjustment for anyone. A Caregiver can offer support and assist a client in acclimating to their new home environment (especially when the move is to an assisted living community or memory care).
"I often ask family members, what would you do with your Mom or Dad if you could be here?" says Quismorio. "I explain that Caregivers can fill in for those needs – help to go up the stairs, keep them company, take them out to lunch or to the doctor. Really anything the family caregiver would like to do for their loved one but can't because they are not available."
Consistent Additional Support
Client Services Managers form strong relationships with their clients and keep close tabs on their changing needs. Even more importantly, they pay close attention to feedback from Caregivers on how their clients are progressing. If a Caregiver observes noticeable changes in a client's condition, they are encouraged to share their concerns with Family & Nursing Care so that Client Services Managers can have a conversation with the client and/or family about the possibility of needing more Caregiver support. Some changes Caregivers have observed include:
balance issues
confusion
depression
poor sleep
risk for wandering
hygiene issues (soiled linens, household tasks not completed)
worsening medical conditions
forgetting to take medications
"We definitely rely on feedback from Caregivers to alert us to changes with a client's condition. However, family members should know that if they observe changes or have concerns, we are here for them and can help talk through options for additional care," says Sharp.
Couple Care
Salb says that clients who are already actively using Family & Nursing Care services have found a lot of value in adding couple care services. "Many clients don't know that we offer couple care services at a much lower rate than we would charge for two individual clients," she says. "For example, if a Caregiver is providing services for a client, and along the way the client's spouse feels that they could use a Caregiver too – either for a short time while they recover from an illness or injury, or on a regular basis. In that case, we can set up a couple care plan."
It should be noted that couple care is not only for spouses. Couple care plans and rates can be applied to care for any two individuals living in the same household – parent and child, siblings, friends, etc.
Family & Nursing Care in Action
A client named Pam is the primary caregiver for her husband Ron who suffers from dementia. She came to Family & Nursing Care to set up care for Ron that included a Caregiver coming to their home for four hours a day to give her some respite and time for self-care. Then one weekend, Pam fell and was admitted to the hospital. "This unexpected emergency left us panicked. Without someone reinforcing his usual routine, Ron would become confused and forget things like taking his medications, eating, and letting out the dogs," she recalled. "Our Client Services Manager was able to quickly refer additional Caregivers to give Ron 24-hour support until I could resume my responsibilities."
When Pam was discharged from the hospital several days later, she was still weak and tired, so the Caregivers began providing care for both Pam and her husband. When Pam regained her strength and health, they changed their schedule back to what it had been before the crisis hit.
"I was very impressed with how Family & Nursing Care's client services helped us seamlessly change our care situation as our needs shifted. The unparalleled hands-on and emotional support from Family & Nursing Care and the exceptional care from the Caregivers made a world of difference," said Pam.
Communication is Key
Blickman says that when it comes to working with your Client Services Manager, communication is key to a successful relationship. "We are in this together to try to provide the best outcomes for clients," she says. "Whatever you might be thinking about, whatever questions you have, just reach out and ask. If we can't provide the service or solution, we will offer suggestions for resources that can." Family & Nursing Care maintains great relationships with area senior living communities, aging life care professionals, rehabilitation facilities and hospitals, and can help with guidance and resources for clients and families looking to take a next step.
From the responsiveness and flexibility of the Client Services team to the high-quality, sincere, and enthusiastic Caregivers, we offer the support, empathy and respect every family needs to navigate their care journey, through every twist and turn along the way.