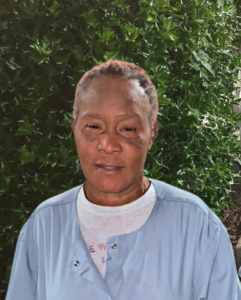 The relationship between Family & Nursing Care Caregiver, Grace Rogers, and the Pratt family began nearly a decade ago when Grace started caring for the late Mrs. Pratt. Following his mother's Alzheimer's diagnosis, Mrs. Pratt's son, Peter Harris, received a referral for home care services from the family's care manager at Aging Network Services, an aging life care management provider. Mr. Harris subsequently reached out to Family & Nursing Care. Grace was the first Caregiver who the family interviewed, and it didn't take long for either party to know that it was a good match. Grace explained, "After the second question, the family could see that I clicked with them and asked me to begin work that same day."
Grace has not only provided the highest level of care to both the late Mrs. Pratt and currently her husband Mr. Pratt, but also became an integral part of the extended Pratt family throughout the years. Mrs. Pratt and Grace grew very close over course of the seven years Grace cared for her until her death in 2020. Peter says, "They understood each other till the very end. It was almost like they had a nonverbal connection – Grace always somehow knew what my mother was thinking."
Grace sometimes affectionately referred to Mrs. Pratt as "Mommy" because of the mother-like role she played in her life. And Grace's dedication to the family is nothing short of  extraordinary – she even ceased travel to Africa to see her own family while taking care of Mrs. Pratt because she knew she was needed while Mrs. Pratt's health was so fragile. Grace said, "I needed her to know that I was there and wouldn't leave her when she needed me. She was my family too."
Grace stayed on to care for Mr. Pratt after Mrs. Pratt's passing and is just as devoted to his care as she was to that of his late wife. Peter finds great comfort knowing his stepfather is being well taken care of by Grace, and that the family can turn to the Family & Nursing Care team for questions and support. In addition, he is grateful for the support of Alison Carelli, Mr. Pratt's care manager at Aging Network Services. Living on the opposite side of the country, Peter tries to visit to check in on Mr. Pratt every six weeks, but relies on Mr. Pratt's care team to keep him apprised with clear lines of communication. He says, "The staff at Family & Nursing Care is professional. They give me a sense of confidence. When they are on the job, I know everything is going to be okay."
Because of their tenure together, Mr. Pratt trusts Grace implicitly, and she is able be direct with him when needed. Alison said, "Grace is able to tell him how it is, and he receives it so well because of their long-term relationship. She knows what she's talking about and cares very much about him, and he knows it too."
This year, Grace's mother became very ill, so she went back to Africa for a visit. Although Mr. Pratt received excellent care from a substitute Caregiver in her absence, the family noticed that he wasn't eating as much. Anticipating Grace's return, Mr. Pratt joked with his family saying, "Grace will cook me good food." Sure enough, he was happy to have Grace back, as he demonstrated by beginning to eat better again.
The relationship between the Pratt family and Grace is truly a blessing to all parties. During the winter holiday season, the whole family, including Grace, come together to enjoy a native African holiday dinner that she prepares. Grace said, "It's so nice to be included in their family in this special way."
The Pratt family appreciates Grace for the care she has provided to Mr. and Mrs. Pratt over the years, and she appreciates them for trusting her to take care of each of them as if they were her own family.
There is no question that Grace puts her heart into everything she does, and the mutual love the Pratts and Grace have for each other has bonded them forever. It is bonds like this that encourage us at Family & Nursing Care as we continue to strive to solve aging adult challenges that families in our region face each day.